When your warehouse is operating at peak efficiency, there's a domino effect that can be felt all the way through your enterprise. Your warehouse employees are empowered and encouraged by their increased productivity and control of inventory. Your customers notice the quality of your service and are impressed by your quick and accurate order fulfillment. And you? With loyal employees and customers and total control over your costs, processes, and inventory, you're in a better position than ever to take your business to the next level of success. To get the domino effect working for you, start with a powerful, feature-rich warehouse management software system that integrates with your Sage Accpac accounting system: Sage Accpac WMS. Sage Accpac's warehouse management software will enable your business to manage inventory and productivity in a time and cost-efficient manner, so that you can focus on the bigger picture.
Sage Accpac WMS
Sage Accpac WMS automates your inventory-handling and order-fulfillment processes, and helps you better manage your supply chain. It works as part of a complete distribution system by interfacing with radio-frequency hardware, bar code technology, shipping systems, and other warehouse automation equipment.
Sage Accpac WMS significantly improves allocation of resources within your warehouse. Its three carefully designed editions address the accuracy, efficiency, and improved customer service needs of an organization. As your business grows, you can easily move from one edition to a more complex one. This chart compares the functionality included in each of the three editions and helps you determine which is right for your business.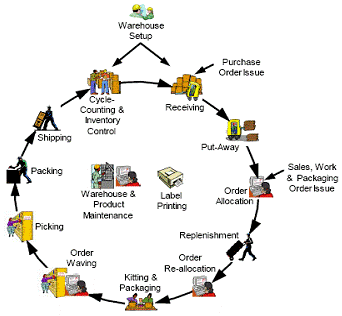 You can run a lean, efficient warehouse with Sage Accpac WMS covering all the bases:
Receiving & Put Away
Move goods from your receiving dock to your warehouse and into the right location with control, speed, and accuracy.
Picking and Packing
Efficiently pick and pack goods using wave, batch, simultaneous, or sequential zone processes.
Shipping
Streamline every step of your shipping process with this warehouse management software, from order entry, to estimating order weight, to producing packing slips and shipping labels.
Inventory Control and Replenishment
Easily and confidently track inventory movement across your entire enterprise with real-time, comprehensive inventory data.
For more information about Sage Accpac WMS, please call us at +612 99062122, or contact us.
Customer Success
"Sage Accpac WMS has substantially accelerated picking productivity and increased sales." – Eric Jacobsen, Tufenkian Carpets